[section color_set="1″ wrapper="true" separator="none"]
RAIKARJHARAN CHILD DEVELOPMENT CENTRE , EI-440
Baripada,Mayurbhanj. Odisha
It is a great pleasure and exciting thing to say that the "RAIKARJHARAN CHILD DEVELOPMENT CENTRE(R C D C), EI-440" was established in Raikarjharan village of Baripada,at Mayurbhanj, Odisha in the year April, 2007 with the blessing of our Lord Jesus Christ by Diocese of Cuttack CNI with supported by Compassion East India Kolkattta.
The Raikarjharan Child Development Centre, Baripada
The said project is a child focused project and aims for their growth from study to their sustainability. The project have 276 nos of registered children among whom 140 are girls and 136 are boys. There are five age groups of children now i.e,3-5,6-8, 9-11,12-14 and 15-18 years of age. We have two nos of administrative Staff as Project Manager and Accountant ,two nos of social worker eight nos of Child Development Workers and three cooking staffs.Rev.Anisim Nayak of DOCCNI is the project Director at present.
Raikarjharan is a small village about 08 K.M. from Baripada Town, in the District Mayurbhanj of Odisha . Basically the people of this village and adjoining area are poor Santali tribe. They mostly depend on small farming and labor work for their living. Their economic condition is very poor. They cannot provide good food , physical needs and health facilities to their children .They struggle to provide themselves two meals per day . So this Project brought forward by these generous and kind Diosesan and Compassion people with the aims of holistic child development of this village children. The centre started functioning its activities as per Compassion East India Organization directives as a day care centre for the overall development of the children with fourfold activities. They are
Spiritual Development
Physical Development
Cognitive Development
Socio-Emotional Development
Children are given spiritual orientation to know that there is a God who controls everything .They are being sensitized to be secular in their thinking and respectful to all religions. They learn good songs, scripture reading and pray to God to be a good character holder children.
The project provides physical needs to the children by giving nutritious food and sanitary supply to all to keep themselves physically fit .The centre arrange routine health check up for the children . The aim is to make them a habit of practicing healthy life and maintaining themselves neat and clean.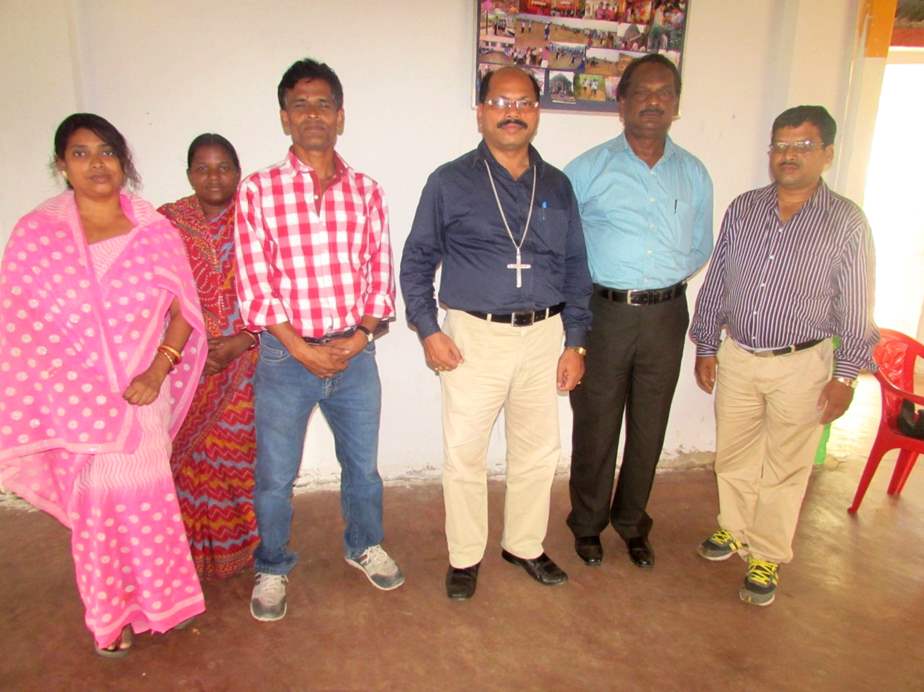 The Project Mission Head Bishop Rt. Rev. Surendra Nanda of DOCCNI, to Bishop's left is Mr. Prasant Sahu (Treasurer DOCCNI), to Bishop's right is Mr. Amiya Ranjan Roul (Project Manager), to extreme right Mr. Dilip Kumar Das (Poject Accountant), and at the back CDW Mrs. Suchitra Barik and Tulasi Hansda (Project Cook).
The RCDC project give class room teaching on school curriculum along with Compassion Global Resource Curriculum (GRC).Children are supplied with study materials and tuition for rectifying their understanding on book lessons.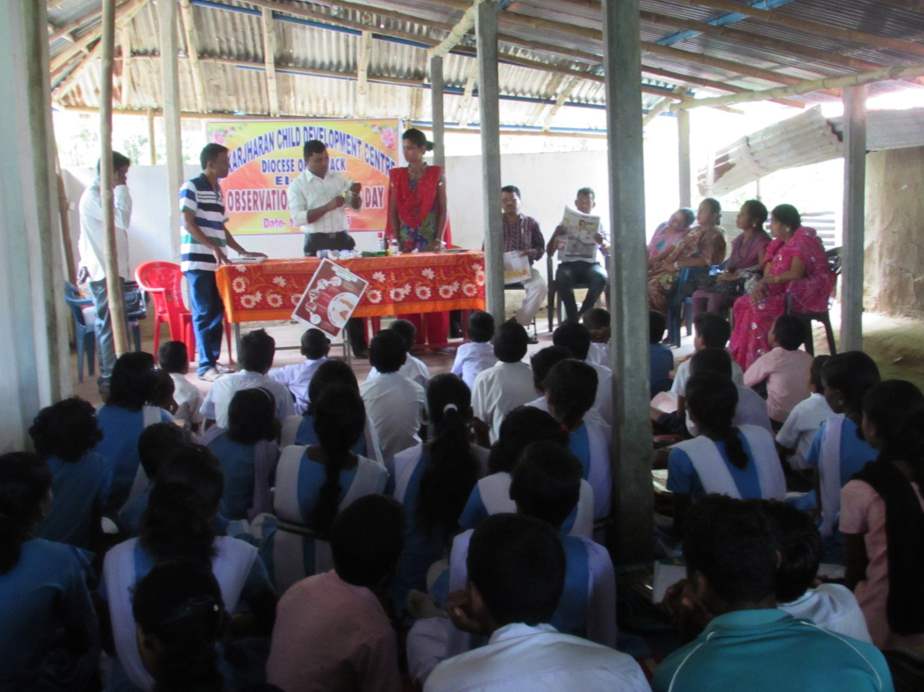 Training on First Aid for the children in the Centre
The centre also organize sports and games with debate song drawing competition for socio emotional growth .The project teaches the children to be respectful to the National Leaders , National Song It also observe and give awareness on the National day like Independence day Republic day , Teachers Day Children Day World Environment Day, Women Day, World Health Day, World water Day,Girl Child Day, World TB Day, World Aids day, Population Day, Good Friday etc.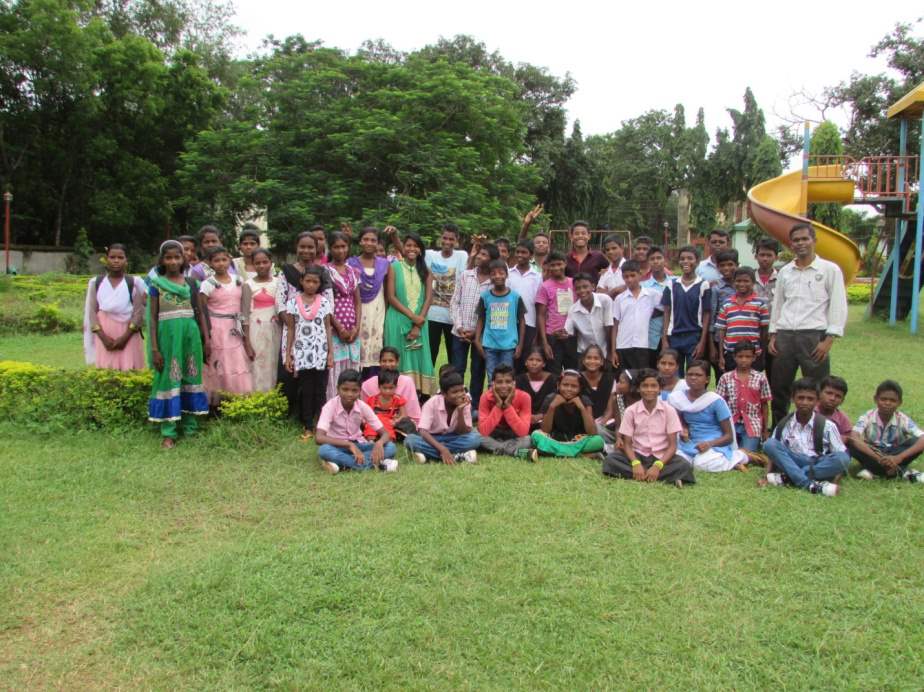 The Project Children at enjoying at Bijupattnaik Park, Baripada
Apart from this Children observe Compassion Foundation day, Prayer day ,Easter Sunday Christmas and Project Annual day etc. Children are also taught on good manner, good habits ,positive thinking , do village cleaning activity. The project is also organizes the study tour , picnic to have an idea on our culture and updated in general knowledge. Apart from this children are learning computer, drawing , art and tailoring from the part time teacher.
Out of the total children this year 10 no of boys and 10 no of girls has admitted in the Government College Baripada. Laxman Marndi a child of this centre now studying in B.Tech in Gandhi Institute Engineering and Technology (GIET) Bhubaneswar. Children from this center has own different distinctive prizes in the Inter project Sports and Cultural Meet. In the Block level Sports meet 10 nos the children have Played well and owned good prizes from the government. Sukanya Singh a girl of this project is currently doing her intermediate in science in the Government College Baripada.
We are requesting everybody to uphold the project in your personal prayer to God so that the Project will develop more and more and the tribal children of this area will know the love of God ,study hard to be a good moral person ,self respectable self dependant and example for many. Thank You All
[/section]