Report of Jeevan Jyoti Project
Jeevan Jyoti Project at Boulkani of Kendrapada district under Diocese of Cuttack, Church of North India was started on 1st November 2007 with ups and downs we are running on 8th years. This year we are having 100 nos. of children. The main aim of this project is to help the poor, needy and deprive children to improve them physically, mentally and spiritually by providing nutritious food and tutorial classes.
Jeevan Jyoti Project at Boulkani, Kendrapada
Through our programme all children enrolled their names in formal School. The parents of the children are mostly daily labourers and substantial labourers. Due to poverty they are not able to provide sufficient food to their children for attending School. Our programme gives them some relaxation by providing one nutritious meal every day before attending the formal School.
The day care center children along with the teacher, photo taken before the student depart to their respective tuition class.
The student along with their class teacher at their tuition class.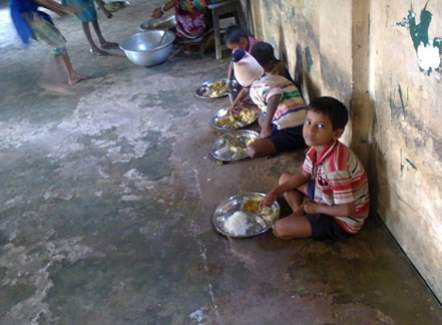 The children's are having the food after their tuition class. Children's are supplied with the nutritious meal every day before attending the formal School.
STATISTICS
| | | | |
| --- | --- | --- | --- |
| Class | No. of Girls | No. of Boys | Total No. of Children |
| I | 07 | 20 | 27 |
| II | 02 | 05 | 07 |
| III | 08 | 07 | 15 |
| IV | 13 | 02 | 15 |
| V | 23 | 13 | 36 |
| Total | 53 | 47 | 100 |
The formal School attendance is increased and our center children have been doing well in School result. Both children and parents are grateful to our center. The Jeevan Jyoti center is a blessing to the community.
Therefore, your kind cooperation is most needed in this remote costal area of Odisha State. And also we would like to request you to increase the financial support in connection to the present market rate which will support us to run and manage the project very efficiently and effectively.
Reported By:
Rev. R. K. Behera
Project Manager,
Jeevan Jyoti